Pressure on for safe cleaning
By John Jones, President of the Water Jetting Association
A fully experienced pressure washing operative was using a steam pressure washer to clear a frozen roadside culvert. As he pulled the hose from the pipe he lost control of it and the pressure washer jet cut through his boot, filling it with 1100C water at 3,000 psi, travelling at 400 miles per hour.
The incident lasted less than three seconds. But he suffered 4th degree burns. Skin and tissue was torn from the bone. After emergency surgery he underwent multiple additional surgeries as continuing efforts were made to rebuild his foot.
Hospital treatment
This incident is just one of many pressure washing injuries. Like the dockyard operative who slipped due to the unexpected power of a water jet, allowing the nozzle to swipe across his supervisor, lacerating his upper thigh. Or the mother who left a pressure washer in the garden for a moment and heard screams as one of her children used it to spray water into her other son's mouth. Both cases resulted in urgent hospital treatment.
A big problem is that pressure washing has become so commonplace.
People who operate pressure washers at home in shorts and flipflops to clean cars and drives do not appreciate the risks they are taking when pressures can reach up to 2,600 psi (180 bar).
Code of practice
The Water Jetting Association (WJA) is taking steps to address this, with the creation of a new Pressure Washing Code of Practice. This lays out, in plain terms, the steps that need to be taken to optimise the safe use of water jetting equipment. It also explains why these steps are important and what needs to be done if something does go wrong.
The WJA is the UK's trade body for the water jetting industry. Our focus, since we were established in 1980, has been on promoting the safe use of high pressure and ultra-high pressure water jetting, with water pressures ranging up to 40,000 psi (2,750 bar).
We have developed two codes of practice for systems operating at these pressures – the Blue Code for high pressure and ultra-high pressure water jetting, and the Red Code for water jetting used for drain and sewer cleaning.
Safety and productivity
The new pressure washing code will support safe and productive water jetting at lower pressures, introducing a new operational standard and health and safety support for companies and agencies that carry out pressure washing and who rely on its advantages.
The code of practice gives the WJA's definition of pressure washing, or power washing as it is also called. This is any jetting activity with a water pressure of up to 3,000 psi, or 207 bar (20.7 MPa).
This range of water pressure is used to clean brickwork, remove graffiti, blast chewing gum from paths and airport concourses, clean mud from the carriageway during highway repairs and construction, and many other tasks that would be too arduous and costly using other cleaning systems.
In all these tasks, without a clear operational framework that a code of practice provides, there is opportunity for field teams to improvise and develop both unsafe and suboptimal practices. It is the WJA's view that, with water jetting, safety and productivity go hand in hand.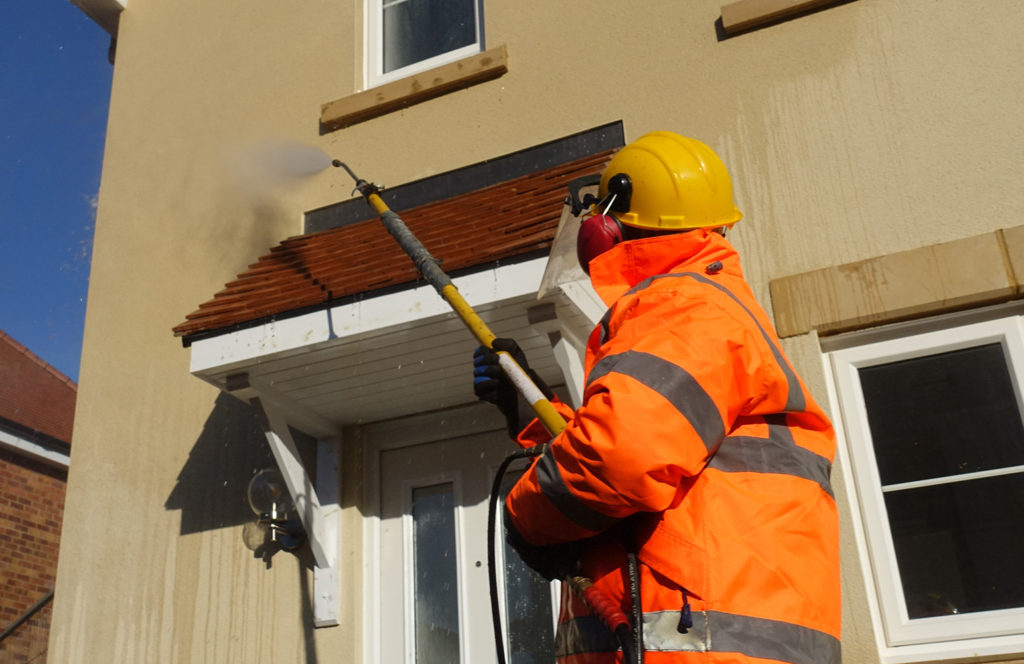 Water jetting injuries
As with our other two codes, safety is at the heart of the pressure washing code of practice. This is, in part, due to the unique risks involved.
There are three main ways water jetting systems cause serious injury or death: being struck by an uncontrolled hose or jetting nozzle; suffering a laceration that causes a massive bleed; or a fluid injection injury, caused by the water jet puncturing the skin and entering underlying tissue.
What is commonly not understood is that a fluid injection injury can be caused by a water jet with a pressure as low as 100 psi (7 bar), which is startlingly low.
There are two other big problems with fluid injection injuries.
Firstly, it is not just water that can get into the body. The water jet can carry other particles and fluids with it, including dirt, bacteria, oils and grease. The jet can be so powerful, it can enter a forearm, for example, strike the bone and then be diverted up to the shoulder, causing catastrophic tissue damage and taking these pollutants with it.
Secondly, the injection point can be so small, that the injured person, their colleagues, and then medical personnel often do not realise the seriousness of the injury.
This can result in an injured person not receiving the urgent and extensive treatment they need, causing long-term problems such as secondary infections. In the worst cases, this can result in the need for amputations or can result in fatalities.
The WJA's pressure washer code of practice will address these risks and detail the appropriate steps needed to mitigate them.
Skills training
It includes sections on training and competency, site and equipment set-up, and the different types of pressure washing pumps and equipment. This includes hot water systems which introduce additional risks, as shown above.
Also covered is equipment operation, use of personal protective equipment, managing the pressure washing team and how to respond to injuries (See: Best Medical Advice). There is detailed advice on risk assessment and a pre-start checklist, as well.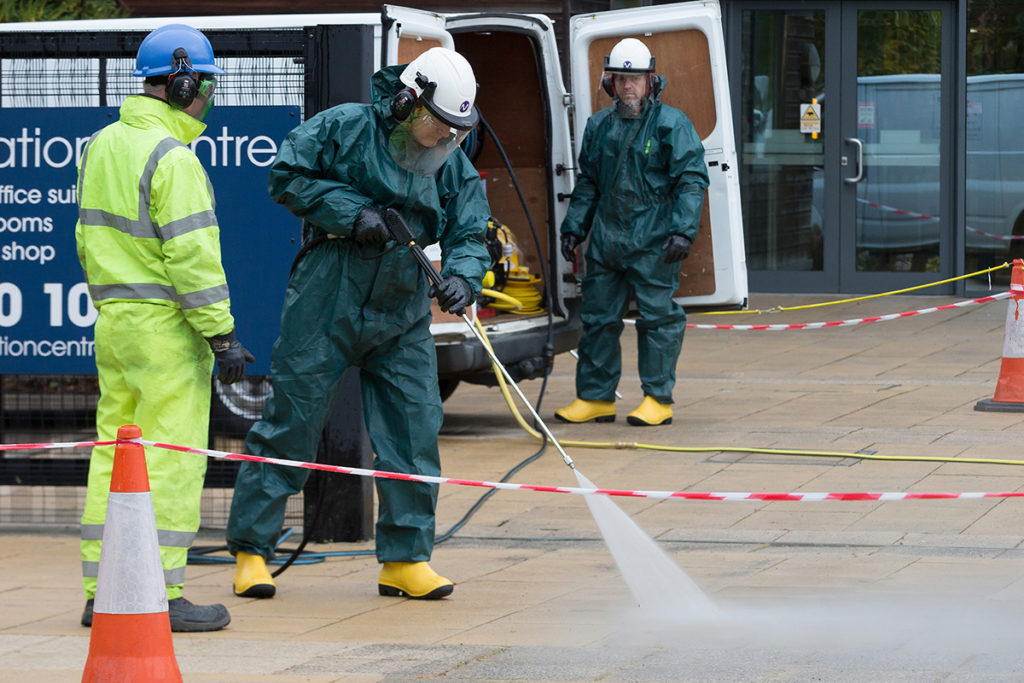 A key element is effective training. The WJA is the UK's main provider of water jetting training. This includes a City & Guilds accredited pressure washing course delivered by WJA-approved training providers and instructors. Lasting at least five hours, it is designed to teach class-based and practical skills for safe and productive pressure washing.
Professional approach
The WJA is keen to promote this professional and knowledge-based approach to delivering pressure washing services. We welcome pressure washing contractors and organisations that carry out pressure washing in-house as WJA members. We also value the lead they take in promoting safety in their industry.
They include TPC Brickwork Cleaning, in Southampton, Hampshire. Company owner Kris Jasinksi, says: "We're a member of the WJA because we want to protect our operatives and everyone around us when we're pressure washing.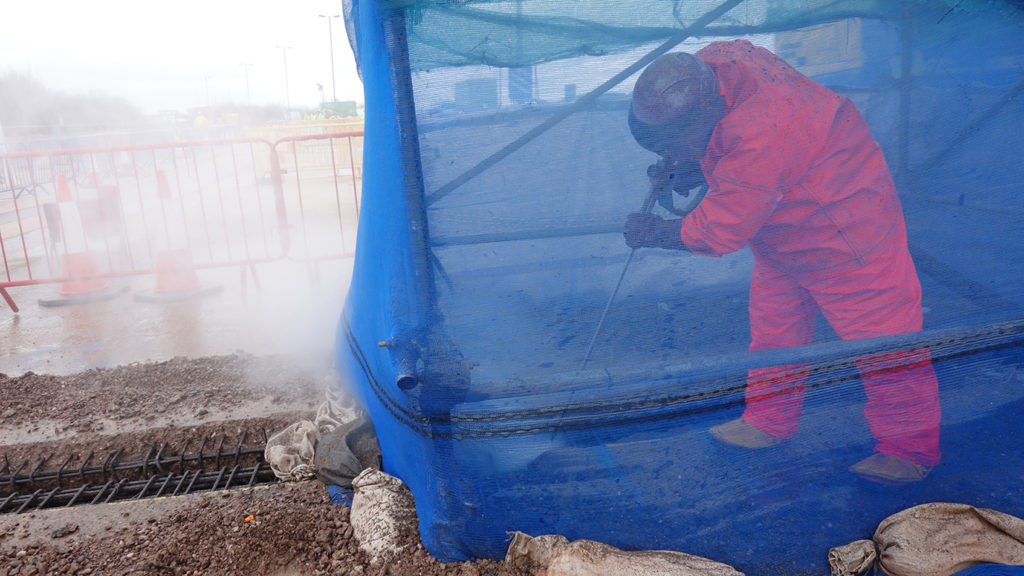 "Undertaking the WJA pressure washing training has made a big difference. I can see our safety has gone up a level. The advice the WJA gives is central to how we go about our work and to our business success. I have no doubt about that."
0208 320 1090.
Best medical advice
Included in the new pressure washing code of practice are the WJA's new water jetting medical guidelines.
They were created following research into water jetting injuries commissioned by the WJA and carried out by a team of leading NHS trauma doctors.
The guidelines are in the form of an algorithm, giving clear step-by-step information about how to respond to water jetting injuries from the moment they occur through to post-emergency treatment therapies.